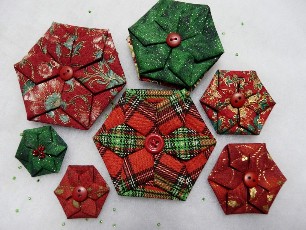 Fabric Folded Pins & Ornaments
Have fun with me at the Holiday Craft-Tea Time on Sunday, July 24 at the Quilted Crow in Boxborough, MA! We'll make Fabric Folded Pins/Ornaments together. The best part is that you don't have to prepare or bring a thing! All the materials will be provided at no additional cost, and you'll leave with as many pins as you can make in your 2 hours! What a nice, relaxing way to spend a few hours of your afternoon, with tea and a tea-treat to enjoy as well.
To sign up please follow this link to contact the Quilted Crow.